Concrete Pumping in Estevan & Weyburn Saskatchewan
---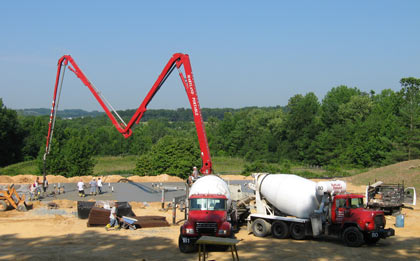 A concrete pump is a machine used for transferring liquid concrete by pumping.
Dart Services' Concrete Pumps are attached to a truck or longer units are on semi-trailers. It is known as a boom concrete pump because it uses a remote controlled articulating robotic arm (called a boom) to place concrete accurately. Boom pumps are used on most of the larger construction projects in Saskatchewan as they are capable of pumping at very high volumes and because of the labour saving nature of the placing boom. They are a revolutionary alternative to truck-mounted concrete pumps.
The second main type of concrete pump is either mounted on a truck or placed on a trailer, and it is commonly referred to as a line pump or trailer-mounted concrete pump. This pump requires steel orflexible concrete placing hoses to be manually attached to the outlet of the machine. Those hoses are linked together and lead to wherever the concrete needs to be placed. Line pumps normally pump concrete at lower volumes than boom pumps and are used for smaller volume concrete placing applications such as swimming pools, sidewalks, and single family home concrete slabs and most ground slabs.
Benifits of Our Concrete Pumping Service in Estevan & Weyburn.
A Concrete Pump places concrete faster and more accurately with less labor than any other method
On site, concrete pumping allows you to reallocate valuable personnel to other duties
You can discharge more ready-mix trucks in less time using a concrete pump.
Concrete pumping keeps jobs on schedule Concrete pumps increase job site safety – ready-mix trucks are kept at the curb away from embankments, excavations and other dangerous obstructions
Concrete pumps reduce congestion and control traffic on job sites
Concrete pumps place concrete exactly where you want it
Different configurations of concrete pumps provide flexibility on a job site allowing you access to areas that are not accessible without a pump
Please use the form to contact us online.