Driven Pile Applications
---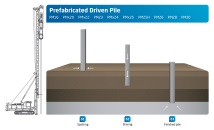 Prefabricated driven pile
Prefabricated piles, made of concrete, steel or wood, are manufactured to length at dedicated pile factories. The properties and dimensions of the piles are optimized to meet the requirements of each driving condition.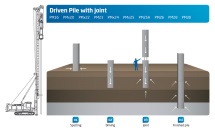 Driven pile with joint
In order to optimize the overall pile driving process, pile joints are been used to reduce the length of individual pile section. The joints can be either mechanical or welded. Junttan pile driving rigs are famous for their high precision in pile handling, making the usage of pile joints exceptionally efficent - even with raked piles. Junttan also supplies special hydraulic attachments in their rigs to connect mechanical joints with ease.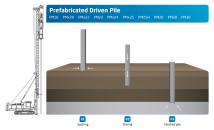 Predrilled driven pile
Junttan pile driving rigs can be equipped with an additional side auger to perform predrilling. Predrilling is been used to speed up pile driving process when there is a very hard or dense soil layer covering the foundation site. Using predrilling not only protects the pile from too hard driving, but also efficiently minimizes noise and vibrations.
Please use the form to contact us online.